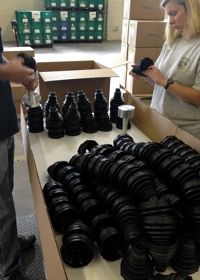 SQI offers a range of light assembly services including light mechanical assembly, component assembly, product labeling, and packaging. We can provide qualified personnel, competitive costs, and functional facilities to perform assembly and sub-assembly processes complying with specifications and customer requirements.
SQI light assembly operation can also provide clients the advantage of getting low volume assemblies quickly without disrupting existing assembly line operations or taking up valuable space in their facility.
Repackaging
There are times when your customer makes a sudden engineering change, which includes a change of packaging. We can set up a location to receive your material, inspect for shipping damage and repack into your specific packaging requirements.
Our repacking service includes:
Quick Product Inspection for visual defects
Packaging and labeling to the customer's specification
Accurate records of product identification and lot traceability
I have used Superior Quality for a number of years now. Kelly and his company have always made my job much easier. They come in and take care of the whole job from start to finish without the need to manage. Kelly and his team have a very good eye for quality and are very dependable he can be called at any time and will be there to make sure not to shut the customer down. His company made such a mark in the company that I worked for that when we transferred to North Carolina we requested Kelly to set up an office in North Carolina which he did and has made a good name for himself and his company there as in Michigan. Kelly has the ability to think out of the box and help come up with many cost-effective and quality ways to get the job done. I have since moved to Georgia and would like to see Kelly set up another office there. I would recommend Kelly and any of his team for any quality needs.
I would like to take an opportunity to offer a formal recommendation for Superior Quality, Inc. As a Supplier Development Engineer working for a Tier 1 automotive supplier, I have known the President of the company, Kelly Conley for approximately two years. I feel that his associates perform extremely well when we needed them to sort the product. The information they gathered and provided was easy to understand and readily available, and their pricing is very competitive."
I am the Quality Manager for a leading producer of welded steel tubing. I have used Superior Quality's service for several years and have had nothing but positive results! SQI has been tasked with some pretty big jobs with little to NO notice and has performed outstandingly on all occasions. SQI has and always will be our first choice.
Superior Quality provides a great service wherever needed. They have effectively worked for us at our customer's facility as well as we have brought them into our own facility in Pennsylvania where they have provided an effective third-party inspection. The team at Superior Quality always provides good solutions while maximizing value for the service provided.
I've worked with Kelly for many years, and he is very professional. He is detail-oriented and sets high expectations for his staff. He understands what needs to be accomplished ensures that the jobs are done to my expectations and on time, many times, jumping through hoops to meet our schedules.