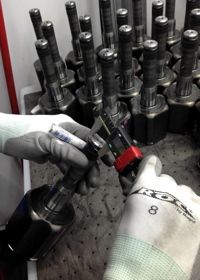 SQI offers a wide variety of inspection services. Our inspectors have the background to perform simple one-day visual inspections to large-scale Level II containment.
Each sorting location will have an on-site supervisor who manages and oversees the entire operation including set-up, training, and reporting. This person will also be your in-plant contact for any questions you may have. Every Inspector will wear an SQI shirt so your plant personnel will be able to identify us. We inspect, separate and mark each part or container as conforming or non-conforming.
Rejected parts will be marked as such and placed into a reject labeled container, quarantining rejected and defective parts.
During and concluding all inspections, we record & report all pertinent data through various formats. Pareto charts, Paynter charts, and daily non-conformance report forms are just a few that we utilize. If you prefer, we can customize any forms to meet your specific needs or use one of yours.
SQI Guarantee
If a defective part is found in a container we have inspected, based on the inspection criteria provided by our customer, we will re-inspect the contents of the container at no charge to our customer, provided integrity of the container has not been compromised. We inspect for customer-defined criteria and certify that the parts are defect free.
"I have used Superior Quality for a number of years now. Kelly and his company have always made my job much easier. They come in and take care of the whole job from start finish without the need to manage. Kelly and his team have a very good eye for quality and are very dependable he can be called at any time and will be there to make sure not to shut the customer down. His company made such a mark in the company that I worked for that when we transferred to North Carolina we requested Kelly to setup an office in North Carolina which he did and has made a good name for himself and his company there as in Michigan. Kelly has the ability to think out of the box and help come up with many cost-effective and quality ways to get the job done. I have since moved to Georgia and would like to see Kelly setup another office there. I would recommend Kelly and any of his team for any quality needs."